Thank you to our sponsors!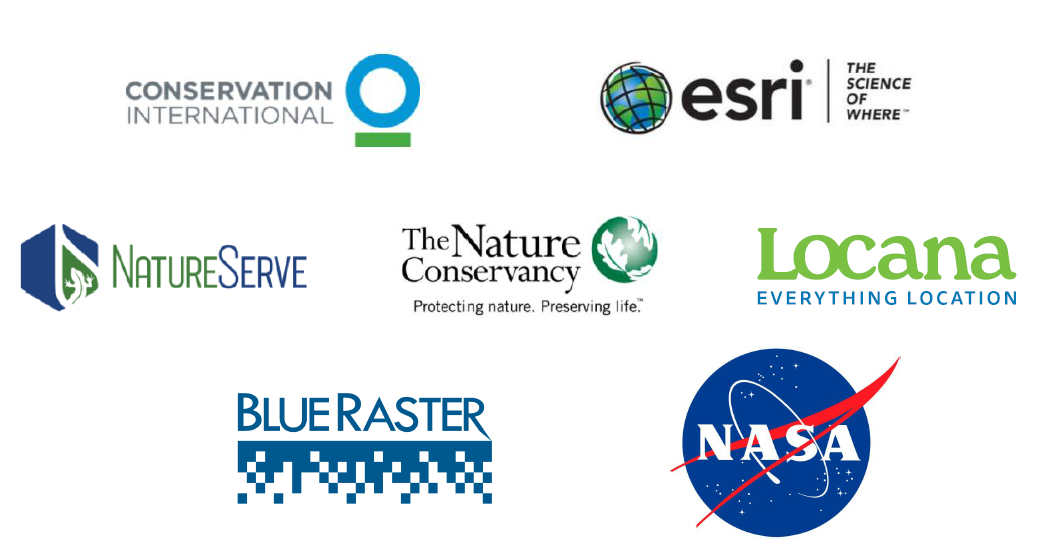 Conference Theme
Maps: The Stories We Tell
Conservation GIS is a powerful tool for understanding our world through scientific analysis and creative visual imagery. Maps are increasingly a key tool for helping local and global audiences to make sense of complex global threats from environmental justice to climate changes. Stories told through maps have emerged as one of the most effective tools of our trade to share stories about place.
At a fundamental level, what constitutes a map? How can maps convey powerful stories about our shared values for land and community? What are the key ingredients in a well told and compelling story? What elements are essential for a given story? For a given audience?
In the creative process we make important decisions on what we emphasize and how we present it. Maps can convey elements of cultural value to illustrate critical connections to land and seascapes. A map preserves cultural heritage and ways of understanding within a community. Maps may display or combine complex scientific data layers to convey messages to the public or decision makers. And mapping itself, as with all of the work we do, must be inclusive of diverse knowledge in addition to western scientific approaches. Maps are now mainstream tools used to drive conservation impact, and they need to tell an inclusive story.
This year we are pleased to have two keynote speakers that provide unique powerful approaches to telling stories with maps. We invite you to come hear their stories and to share yours as well!
Keynote Speakers
Mr. Jim Enote is a lifelong farmer, land and water practitioner, natural resources manager, museum director, and philanthropist. Jim Enote has thought hard about maps and mapping by challenging how we think about, use, and view maps. Jim is a Zuni tribal member and has spent over 40 years working to protect and steward cultural and natural resources. He is the CEO of the Colorado Plateau Foundation, which supports regional Native communities to protect water and sacred places, ensure food security, and preserve languages and ancestral knowledge. He also serves on the Trust for Mutual Understanding board, Governing Council of The Wilderness Society, is chair of the board of trustees for the Grand Canyon Trust and is a Senior Fellow at the Carnegie Foundation. Jim lives in Zuni, New Mexico. Coming to us virtually from his home in Zuni, New Mexico, Jim will talk about his experiences with maps and new approaches to map-making.
Featuring counter-mapping is fitting and timely as the world struggles with a pandemic and political soul searching. Now more than ever, the question, what information do we trust and value, is profoundly relevant.
The expanding global society, an increasingly transcultural world, and the ascendancy of the information age can give the impression that geographic borders are defunct. Fluid economic geographies, digitally influenced political inclinations, and the arts have activated new interest in intuitive and inquiring maps and portrayals. As a philosophical practice, counter-mapping exalts liberation and artistic freedom, speaks for the revision of traditional mapping to bring about an imaginative and refreshed society, an ethos of truth, and arranges places and events as spirited parts of a cosmological process.
Counter mapping is not only about deflating conventions of mapping and confronting the canon of map-making; it is about creating unprecedented maps that set the record straight and incite and motivate us in an approachable and unexpected way.
Dr. Travis Belote serves as the Director of Research with The Wilderness Society. His research focuses on ecological patterns (e.g., patterns of biodiversity) and processes (e.g., connectivity) to inform landscape conservation. Travis' early research focused on small-scale experiments and observational studies, but he is increasingly relying on broad-scale geographic data and spatial models to understand nature. Travis received his BA and MS from the University of Tennessee, his PhD from Virginia Tech, and served as a postdoc with the USGS with the Colorado Plateau Research Station. He lives in Bozeman, MT with his wife and two sons.
Dr. Belote will share his research on the development of area-based conservation targets frequently used by conservation scientists to ensure adequate representation of biodiversity and protection of lands with high ecological integrity. Dr. Belote overlaid four mapped datasets representing ecological integrity, corridors between protected areas, ecosystem representation priorities, and biodiversity priorities to develop a composite map of 'wildland conservation value' for the contiguous United States (CONUS) using three prioritization methods. The work is shown in a curated series of maps illustrating individual values and composites.
Results in a curated series of maps demonstrate that different places are important for different reasons. As policy makers seek to implement area-based targets, understanding the geographic patterns of diverse values may be more important than producing composite maps of priorities. The work illustrates the value and the limitations of maps using multi-criteria assessments. Making limitations explicit may be especially difficult for advocacy organizations for fear of limiting the power of our stories. However, clarifying the limitations and assumptions of our analyses cultivates humility and transparency, builds trusts among stakeholders, and facilitates new advancements in analyses.